Chia Tai Investment Co., Ltd. (CTI) completed its latest round of asset restructuring at the end of 2020. Recently it pre-disclosed its prospectus to the China Securities Regulatory Commission on May 27. This means Charoen Pokphand Group's (CP Group) feed, pig farming and slaughtering businesses in China will embrace the local capital market.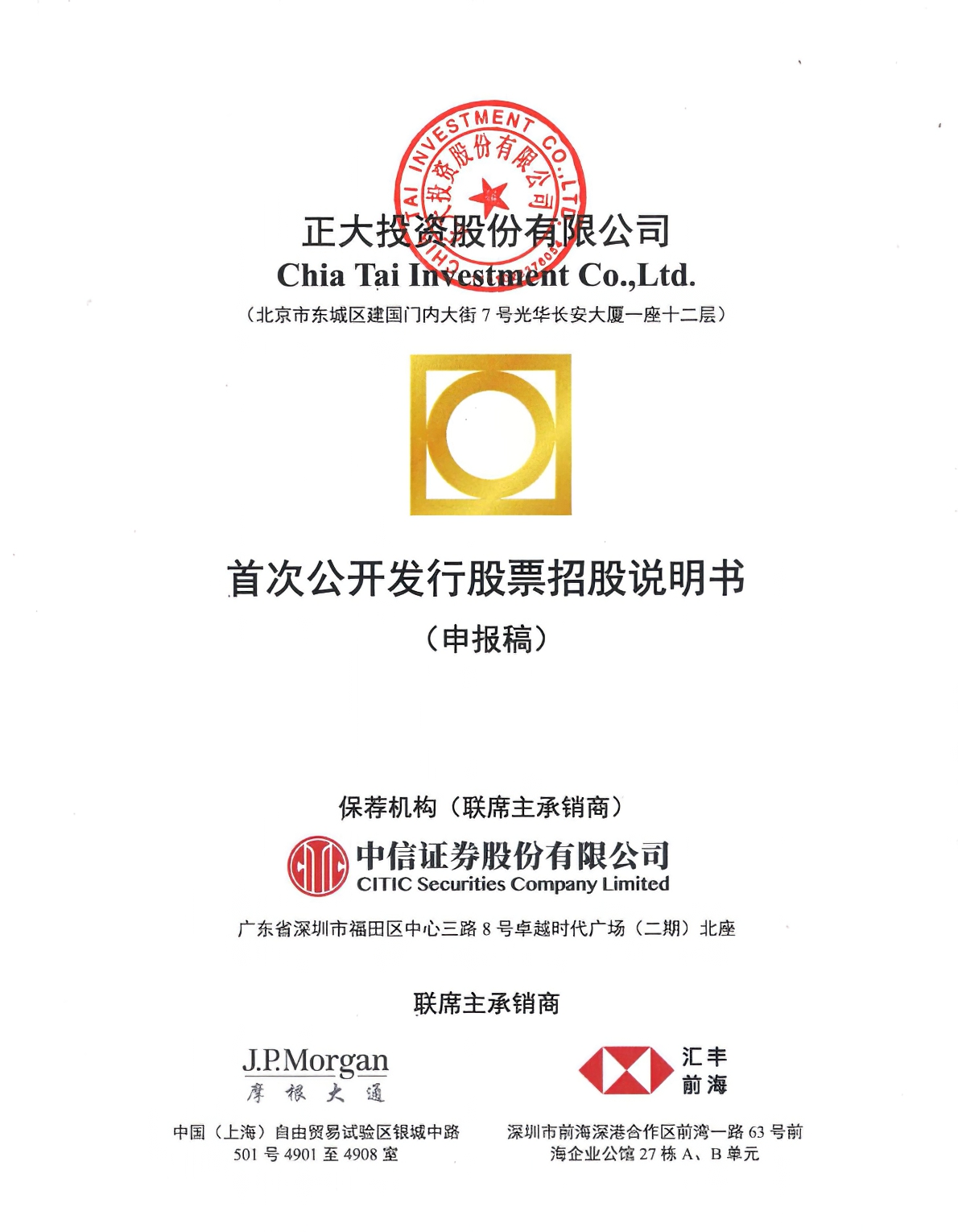 As the pioneer and leader of China's feed industry and modern animal husbandry, CTI plans to issue no more than 567 million shares (accounting for 12% of its total share capital after issuance) and raise CNY 15 Bln (US$2.35 Bln) to build 17 projects related to the pig industry chain. This is done with the goal to further expand its pig farming and slaughtering businesses.
CTI history
According to public information, CTI was established in Beijing in 1996, named Chia Tai (China) Investment Co., Ltd. at that time. In 2019, the company completed the shareholding system transformation. Until the end of 2020, the company had been a direct or indirect wholly owned subsidiary of C. P. Pokphand Company Limited – a Hong Kong-listed company under CP Group – and was mainly engaged in the feed business.
In December 2020, Chia Tai Animal Husbandry Investment (Beijing) Co., Ltd., a subsidiary of CP Group responsible for China's farming business, injected its shares of 43 pig business companies to CTI. This made it a 65% controlling shareholder while the remaining 35% is still held by C. P. Pokphand Company Limited, paving the way for its A-share listing.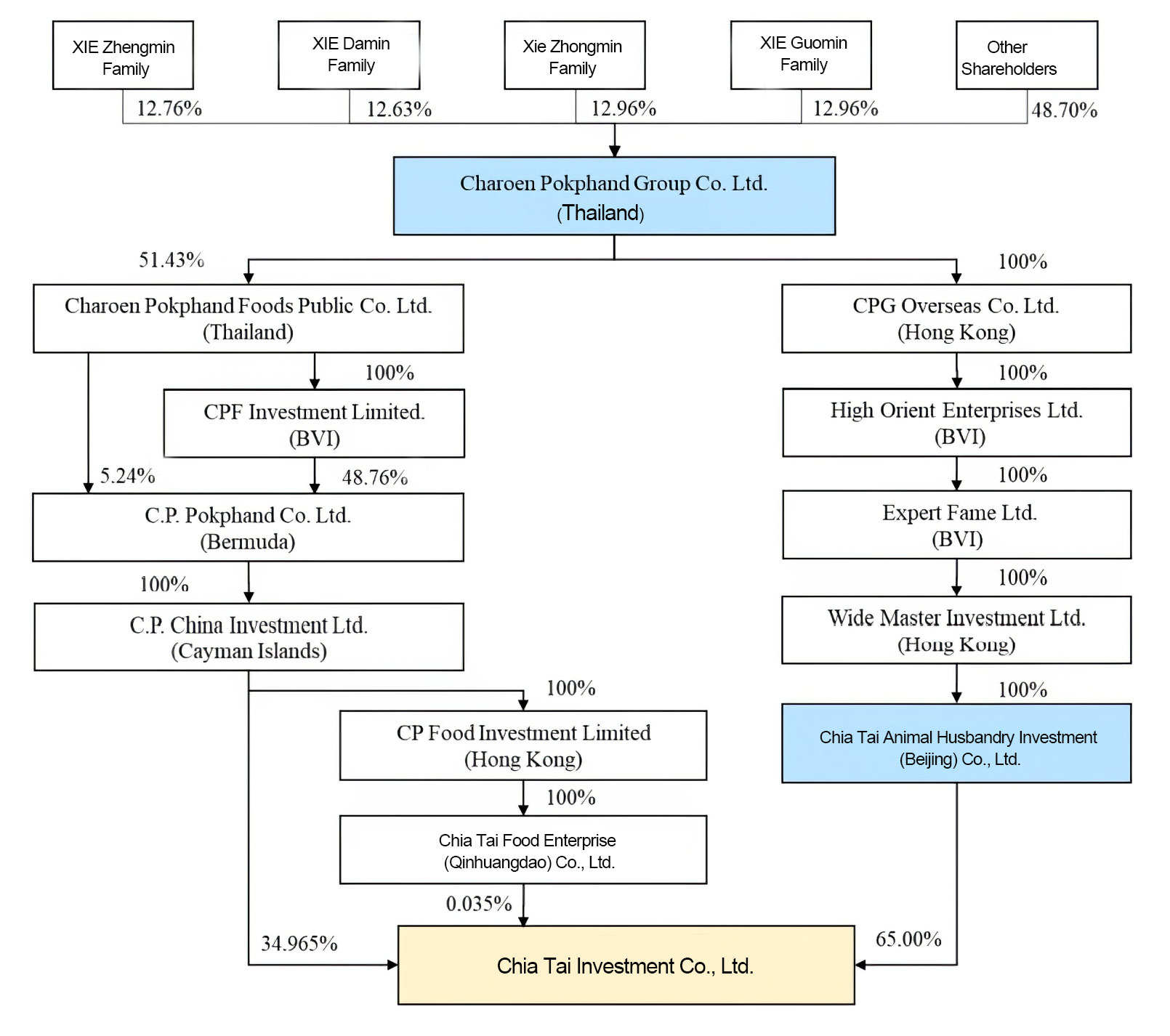 The current business
CTI has 136 holding subsidiaries and 10 major shareholding companies by the end of 2020. Its shareholding companies include Ningxia Xiaoming Agriculture and Animal Husbandry Co., Ltd., the first share in China's layer industry, as well as well-known enterprises such as Qingdao Yibang Biological Engineering Co., Ltd., Henan Minzheng Agriculture and Animal Husbandry Co., Ltd., and Hubei Jinchulianhe breeding Technology Co., Ltd.
CTI's current main products include feed, live hogs and slaughtering products. Among them are feed products involving swine, poultry, ruminant and aqua. Live hogs mainly consist of commercial pigs, breeding pigs and piglets. Slaughtering products are mainly pork carcass, pork cuts and pig by-products.
By the end of 2020, the company has 84 modern feed factories, six premix feed factories, 97 self-owned pig breeding farms and nearly 1,800 large-scale commercial pig fattening farms in 29 provinces, municipalities and autonomous regions across China.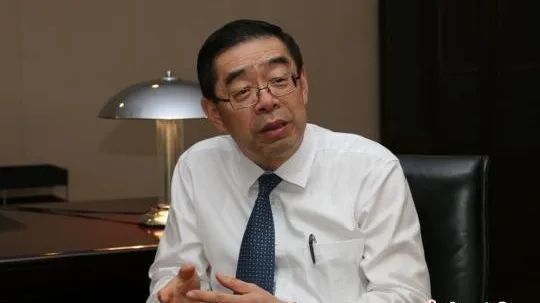 Its total number of employees was 21,714 at the end of 2020, of which Xie Jiren (chairman of CP Group) and Xie Yi (senior vice chairman of the CP Group's agriculture and animal husbandry and food enterprises in China) served as chairman and general manager, respectively. Independent directors include academician Li Defa, Professor Zhang Lixiang and other well-known experts in the industry.
The operating income of CTI in 2020 is CNY 45.7 Bln (US$7.15 Bln), and the net profit belonging to the shareholders of the parent company is nearly CNY 7.6 Bln (US$1.19 Bln). Feed, pig farming and slaughtering businesses account for about 53%, 28% and 12% of its revenue respectively. Additionally, nearly 7% of its revenue comes from broiler business and feed ingredients trading. CTI's broiler business has been gradually divested to other subsidiaries of CP Group in recent years.
Development of the pig farming business
By the end of the first quarter of 2021, the number of CTI in pig breeding farms nationwide has increased to 131, including three great-grandparent breeding bases, 33 grandparent breeding farms, 95 parent breeding farms, and nine boar stations. The great-grandparent core herd is close to 6,000 head and the grandparent expansion herd is over 90,000 head. Its overall PSY in 2020 has reached 25.4 head/year.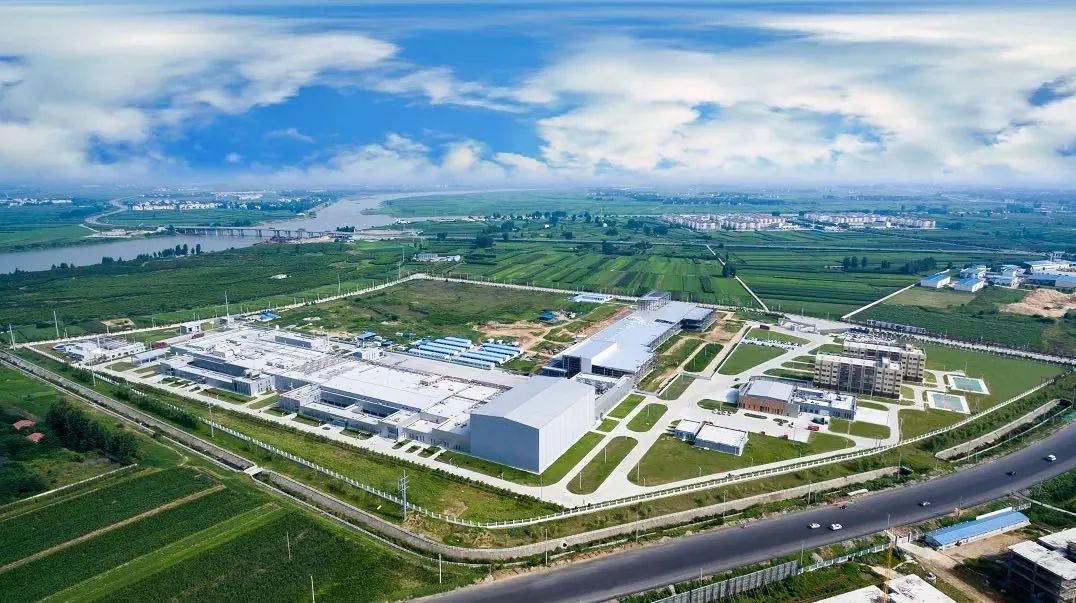 From 2018 to 2020, the number of live hogs produced by the company was 4.29 million, 4.19 million and 4.32 million respectively. Its live hog production in 2018 and 2019 ranked fourth in China, after Wens, Muyuan and Zhengbang.
The ranking in 2020 dropped to sixth as some pig enterprises such as New Hope and Twins Group significantly increased their live hogs' number.
Of its live hog production in 2020, 1.63 million (about 38%), were self-raised and the rest were from cooperative contract-farming. By the end of 2020, pig production capacity was about 6.44 million.
In terms of feed, production capacity and actual output last year were about 16.8 million tons and 9.5 million tons respectively. The slaughtering capacity and output were approximately 3 million and 1.13 million.
CTI indicated that the 17 pig industry chain related projects to be raised by IPO involve feed processing, pig farming and slaughtering. After implementation, the company will further improve: feed production capacity, ensure feed quality, comply with pig industry development trends, enhance the scale effect, expand slaughtering capacity and exert a synergy effect.
AgriPost.CN is an animal protein community connecting China and the world and a partner of global agribusiness media such as Misset and Asian Agribiz. Our co-founder & managing editor, Allen Shu, is a correspondent for Misset's Pig Progress magazine in China. (contact@agripost.cn)