In recent years, New Hope Liuhe, which has been vigorously developing pig farming, has achieved a remarkable increase in the number of slaughter hogs. In the first half of the year 2020, the company continued to rank among the top 4 domestic listed companies with 2.12 million heads in pig production. The 58% year-on-year growth rate also made it far ahead of other pig enterprises.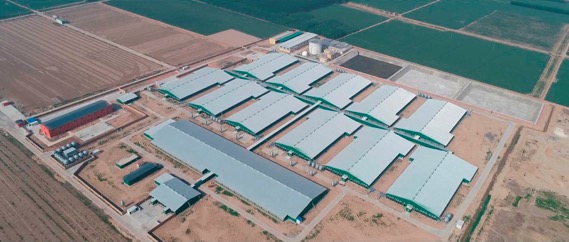 For the annual target of 8 million heads set for 2020, New Hope Liuhe stated that it is "very certain to achieve." Just recently, it lifted its pig output goal of 25 million heads in 2022 to 40 million, while the initial goal will be achieved one year ahead of schedule in 2021.
"Why we raise so many pigs? This is an opportunity for the sector's transformation and upgrading after African Swine Fever (ASF). Future profits are one hand, and social responsibility is the other. " Ji Chongxing, vice president of New Hope Liuhe, told AgriPost.CN, as one of China's largest agricultural and animal husbandry companies, New Hope Liuhe is working hard to ensure stable production and supply of live hogs, hoping to provide the society with high-quality and low-cost food. "This is our original intention."
In the New Hope Liuhe's view, although the national hog stock and breeding sow stock began to recover slowly after hitting bottom in the fourth quarter of last year, this mainly depends on the use of three-way backcross technology (DLY sows). The industry is still facing problems such as low litter efficiency and high culling rate of sows, and low survival rate of piglets, which keep pig prices high and the full recovery of pig production capacity is still a long way off.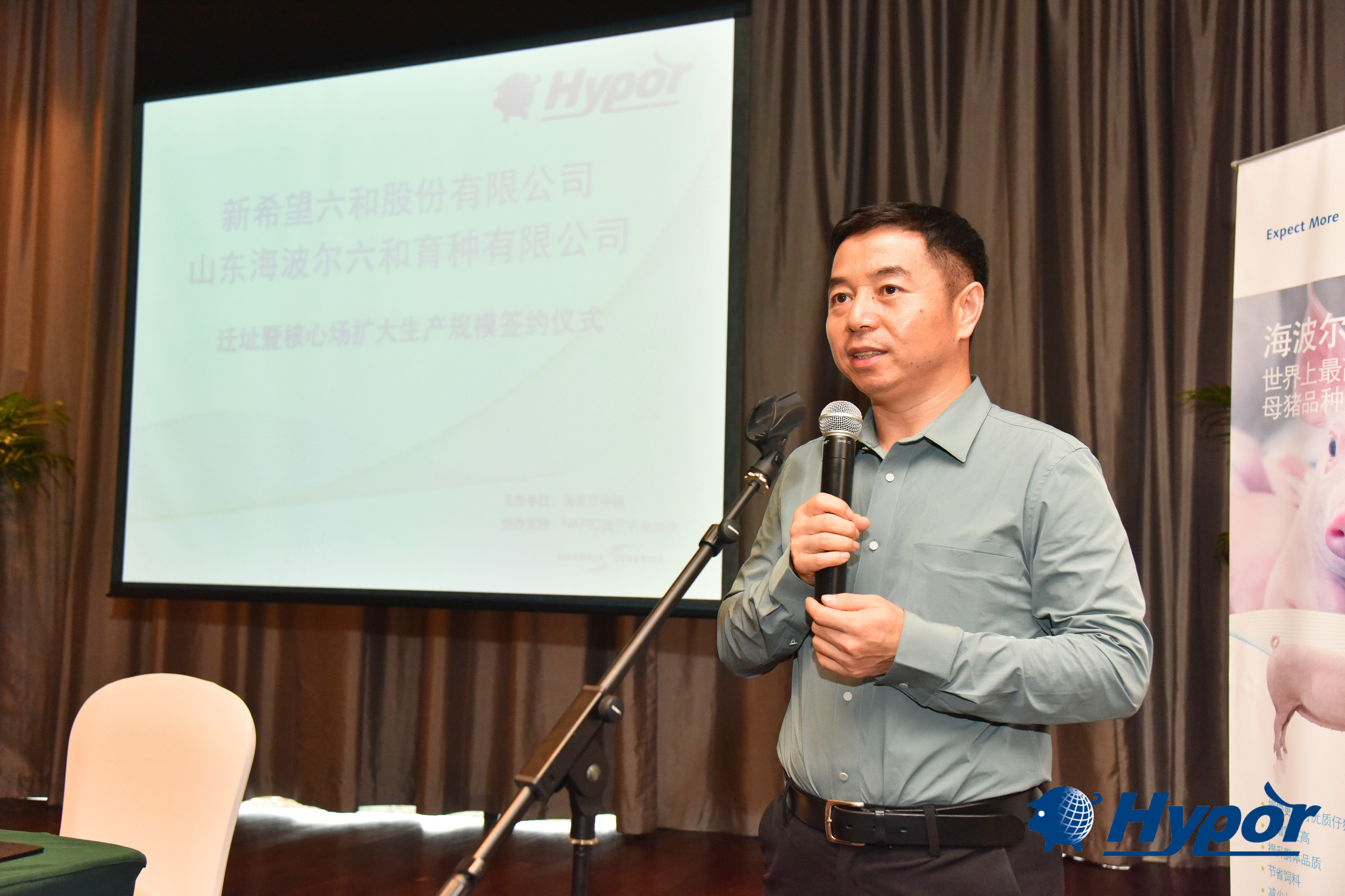 Ji Chongxing pointed out that the company's adjustment to hog output is also derived from the early stage accumulation, which is a fairly natural result after the enterprise has developed to some location.
According to him, the pig production capacity of New Hope Liuhe has reached 18 million heads by the end of June 2020, and 12 million heads of new capacity can be completed in the third quarter of this year, and its cumulative completed or operating capacity will further increase to 40 million heads by March 2021. New Hope has completed land contracts or reserved projects, and its maximum pig production capacity has exceeded 70 million heads theoretically.
As the COVID-19 epidemic has affected some pig farms' construction progress, New Hope admits it's challenging to set a higher target this year; however, it is confident to produce 25 million pigs next year and will try 30 million heads.
Speed up the construction progress
The reason why New Hope Liuhe has been able to grow so fast in pig farming is because of its mature business model, systematic resource support, and innovative construction process, Ji Chongxing told AgriPost.CN.
The company has been committed to becoming a benchmark in the domestic pig industry since 2012, when it invested in a 1 million hog production project in Xiajin, Shandong province, which uses a highly automated and intensive production model, and is currently the largest cluster hog production system in China. In 2016, it began to use the Xiajin project as a template to vigorously develop its hog business in a broader market across the country.
According to Ji Chongxing's introduction, pig farming is typically a capital-intensive, technology-intensive, and talent-intensive segment, and the company's controlling shareholder has given strong support in these areas. Including keeping external recruitment, New Hope Liuhe has also launched an internal "across bridge program" to encourage colleagues in other business units interested in pursuing a career in pig farming to transform their careers. Up to the first half of this year, its pig BU employees had exceeded 30,000.
In terms of organization expansion, the company has also extended from four pig farming units at the end of last year to six units, with cross cooperation and competition internally. Ji Chongxing also served as the president of one unit named "Xin Hao".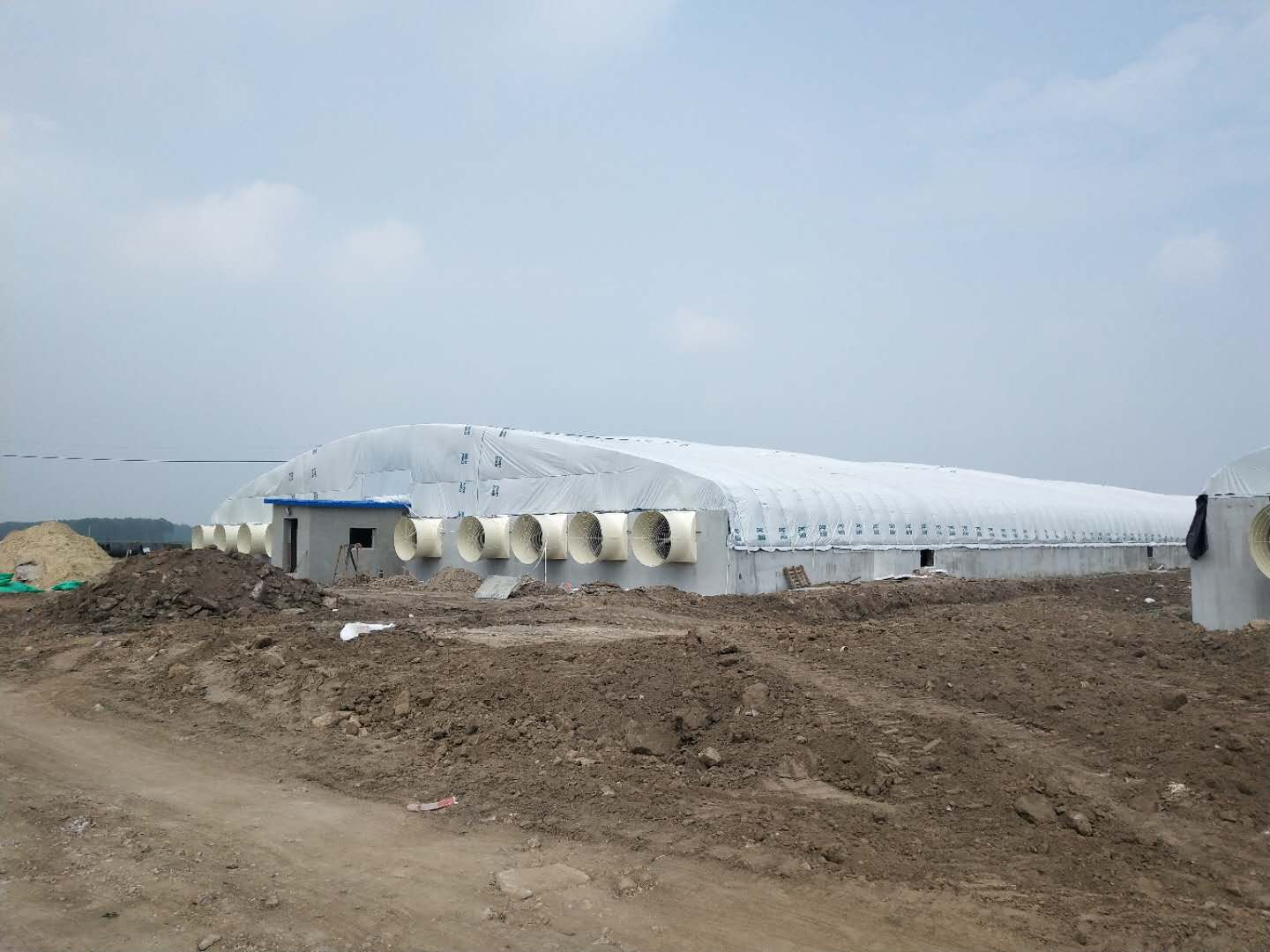 New Hope also innovatively adopted greenhouse farming this year, using a model with faster construction speed and lower cost, but fully compliant with the safety and epidemic prevention standards to replace traditional pig farms. This also plays a role in accelerating its development.
AgriPost.CN has learned that the main difference between New Hope's greenhouse pig farm with a single arch and long span and the standard pig farm lies in the material used for the roof. The standard pig farm roof is made of colored steel plate, while the building structure in the greenhouse pig farm adopts an arc-shaped arch plus a vertical column structure. The arc-shaped arch is made of the galvanized ellipse and plastic-coated steel pipe, and the roof is made of the membrane plus thermal insulation cotton and membrane. The construction cycle can be shortened to 100-120 days (180 days for standard pig farms), the service life is 5-10 years (15-20 years for standard pig farms), and the construction cost of a single building can be reduced by about 35%. However, Ji Chongxing pointed out: "We won't apply it widely, since the greenhouse pig farms were mainly used to solve the speed problem."
New Hope is also exploring the construction of multi-floor pig farms. A five-story pig breeding building in Guang'an, Sichuan Province took only 43 days from the start of construction to the capping of the main body, setting a record in New Hope's construction history. "We will adopt this approach to some provinces where land is scarce, such as Sichuan, Chongqing, Guizhou, Zhejiang and Guangdong," Ji Chongxing said.
Reduce the pig production costs
With the recovery of domestic hog production capacity, the industry mostly estimates that hog prices will decline from the first half of next year. "The first half of next year may be fine, but the second half isn't auspicious. At this time, we have to compete on cost." Ji Chongxing noted.
During the first half of this year, New Hope Liuhe's total cost of fattening its piglets remained at CNY13.6/kg, which increased by CNY0.6 /kg compared to 2019, mainly due to higher contract farming and feed costs. This continued to maintain an industry-leading level. The cost of its Xiajin pig farm is less than CNY12 /kg. The company's short-term goal is to reduce the total cost of fattening its piglets to CNY11/kg or less.
"The cost definitely will keep going down, and our process won't be affected by the ASF." Ji Chongxing said that after ASF, there are fewer PED (Porcine epidemic diarrhea) and PRRS (Porcine reproductive and respiratory syndrome disease) in farms due to better biosecurity, which has also contributed to the cost reduction to some extent.
He noted that New Hope will focus on several key areas to reduce production costs, including rapid full capacity production, precise nutrition, disease control, and production efficiency. The per capita efficiency of the company's fattening section has achieved one person in charge of one house (3,000-6,000 heads).
New hope is also improving production efficiency by increasing the proportion of self-fattening, increasing the self-farming ratio from the current 10% to 75%. However, Ji Chongxing said that the company will always maintain a certain contract-farming ratio for the interests of small and medium-sized farmers, which is also a manifestation of corporate social responsibility. "Some farmers have been growing with us, and we want them to continue growing through upgrading and transformation."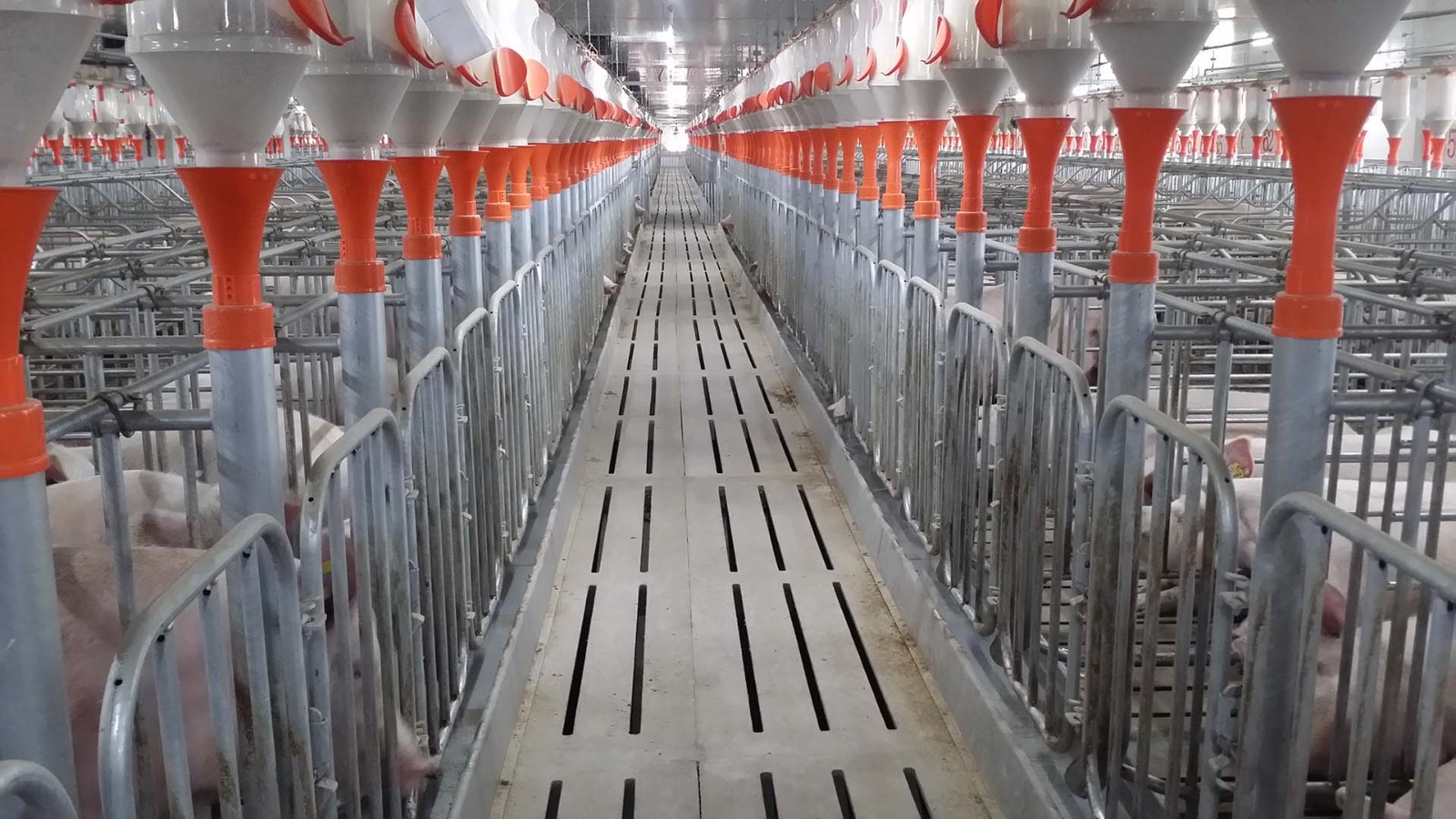 It is learned that in the first half of 2020, the number of New Hope's contract farmers was 3,287, increasing over 70% from the end of 2019. In terms of the size, the number of farmers with less than 500 hogs accounted for about 13%, down 23 percentage points from the end of 2019; the number of farmers between 501-1,000 hogs accounted for about 41%, up 5 percentage points from the end of 2019; and the number of farmers with more than 1,001 hogs accounted for about 46%, up 18 percentage points.
Strengthen the breeding business
With the rapid development of the pig farming business, speeding up the introduction or expanding the breeding herds, especially the stock of authentic binary crossbreeding sows, and then providing more self-produced piglets, has become the key to seize the current great development opportunities.
At the end of August 2020, New Hope Liuhe announced that it plans to set up New Hope Pig Breeding Co., Ltd. with CNY 100 million through its wholly-owned subsidiary Tibet Xinhao Technology Co., Ltd. And Ji Chongxing served as the president of Tibet Xinhao Technology.
For this investment, New Hope said that by investing in the establishment of a breeding company and building up leading pig breeding capability, it can ensure the supply of sows and piglets for the company's downstream commercial business, improve the reproductive performance and growth performance, reduce the production cost, cultivate specialty pig breeds and develop high-quality meat products according to the flavor demand of end consumers, improve the overall competitiveness of the company's pig industry and achieve "maximizing the benefits of the pork industry chain".
"The investment in breeding is huge. And if your production volume is only a few million or even 10 million heads, you shouldn't do the breeding. But when the production reaches 30 million heads or more, you must have your own breeding business." Ji Chongxing pointed out.
The pig breeding also needs long-term R&D accumulation because of its high technical complexity. At present, most of them are controlled by foreign professional pig-breeding enterprises, and individual domestic leading enterprises have made breakthroughs in recent years. However, most domestic enterprises are not involved in upstream breeding, but only introduce the GGP generation from foreign suppliers to carry out grandparent generation and parent generation expansion in China.
By the end of August, New Hope's breeding herd inventory had exceeded 1.6 million, including over 800,000 breeding sows and 800,000 gilts. Of the 1.6 million breeding pigs, more than 200,000 were grandparents/great-grandparents.
It is expected that by the end of this year, the company's breeding herd will exceed 2.5 million, among which 1.5 million are breeding sows and 1 million are gilts.
By forming a dedicated pig breeding company, New Hope will implement independent management of the current core breeding pig farm and subsequent ones, and will focus on research and development of cutting-edge breeding technologies. Currently, the company's pig breeding team has developed its genetic breeding software and has begun trial runs.
Ji Chongxing also pointed out that the company's pig breeding will focus on two types of indicators, one is good for the producer, such as birthing more and growing faster, and the other is good for the consumer, including taste, lean meat percentage, intermuscular fat, and even water holding capacity and meat color, ultimately maximizing the profit of a pig by taking both into account.
Contact Us: editor@agripost.cn